Stackable. Storable. Safe.
Less bulk, more room. Stockpiling leftovers and ingredients into the fridge can turn into a war. That's why our Creative Reusable Food Storage Tray is a kitchen-smart solution for cutting storage bulk while maximizing your fridge space.
Less plastic wrap.
Less eco-impact.
Imagine storing leftovers and keeping food fresh without going through sheet after sheet of plastic wrap. Our reusable food storage trays are just the solution, with a built-in elastic film that's washable and reusable, reducing your use of plastic wrap; help reduce your footprint on the environment.
A versatile wonder for clean up,
prep, and serving
Discover the greatness in this multi-use solution:
Safe for refrigerators, microwaves, ovens, and dishwashers.
Trays double as serving dishes at parties or dinner around the table.
Stackable tray design helps save space.
Trays and covers (including elastic film) are sturdy and cleanable.
Buckle design of tray covers makes it easy to seal food.
Buy in doubles or quads
Our beautiful trays come in sets of two or four for great gift-giving or personal use.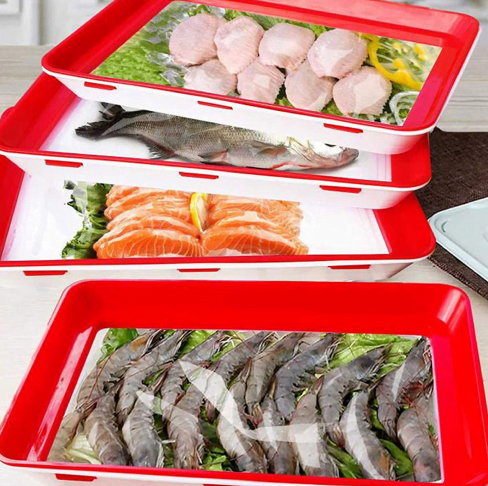 Modern build + design
Our trays are made of polypropylene plastic, with the wrap being advanced elastic film. All trays are white with a red border frame for the film cover. Each tray measures 9 x 12 x 1.14 inches (L x W x H).